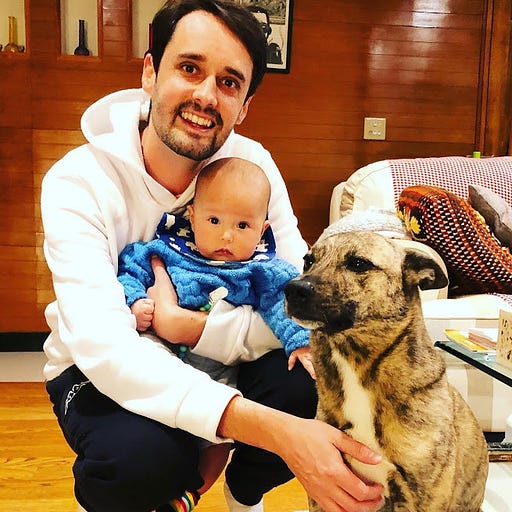 Sep 18, 2021 • 57M
How to write longform articles that go viral on LinkedIn
Alan McIvor, an executive headhunter in Taipei, uses personal storytelling in his longform LinkedIn articles, many of which have gone viral.
(You can also listen to this conversation on Apple Podcasts here)
Alan McIvor is the practice leader at the Paul Wright Group, an executive search firm. We met several years ago in Taipei, where we both live, when he was just starting to build his clientele and presence on LinkedIn.
Alan joined me recently for my first LinkedIn Live video session where we spent an hour exchanging strategies and tips for writing longform articles on LinkedIn. Alan has had a lot of success recently with his articles, some of which have attracted tens of thousands of views and thousands of likes and shares.
I asked Alan about his writing process, how he incorporates personal stories into his articles, and how he crafts click-worthy headlines. He also explained why he writes really long longform articles—two recent pieces tipped the scales at 10,000 words each!
He also shared some of his tips—from his vantage point as a professional headhunter who gets inundated with connection requests and job inquiries—for writing effective outreach messages on LinkedIn.
Watch some quick clips from my conversation with Alan, and scroll to the bottom of this post to watch the entire Writing Masterclass with Alan.
Test out membership in Write With Impact Academy by pressing the orange button below for a 14 day free trial:
Personal storytelling and authenticity
I try and mix a lot of my personal story in with the article. I think it's about authenticity. There's nothing more boring than reading a content piece that is all business. And I feel the same about conversations in my job. If you think that a job interview should be all business: What did you do in this job, what were your responsibilities, what was your salary at the time, what was your sales record?
If you think that a job interview should be all business, I think you have the wrong end of the stick. There needs to be the personal mixed in with the expertise. I think that's what makes the articles more readable. I was speaking to one of my best friends Christine Orchard about this topic. She said, "I think what is really nice about your articles, Alan, they feel really authentic, they feel like you get to know you as you're reading the article." I think that's a really good thing, that's something I'm really proud of, that's something I want to keep working on.
---
Write fast, edit slowly
I wrote down 23 or 25 potential article titles. I brainstormed article titles and then I opened them all in separate Microsoft Word documents. I have a folder on my computer called "Content" and it has a bunch of potential titles. And then I choose one that I feel like I want to give some meat to, and I would go in and I would brainstorm what I'm going to talk about, so I would write an outline and then I fire in.
I'm one of these people—I'm a musician as well—I believe in the kind of flow that comes from natural creativity, that kind of getting it out, so I actually write very quickly.
In terms of the meat of the article, I write it way faster than the editing process. So sometimes an article will take me 2-3 hours to write and then five days to edit. The editing process is a lot slower for me than just the getting-it-out stage.
If you're writing something out, you're flowing and you're passionate about it, and you're filled with that creative buzz that you get, if you get bogged down in researching a particular topic, or the wording of a sentence, you're going to ruin the flow. I think it's much better to get the whole thing out: paragraph, paragraph, paragraph, paragraph—and then come back to the nitty gritty of, Which word should I use? Did I phrase that sentence properly? Should I put a comma here? It interrupts the flow. I think it should be a separate mindset.
Ernest Hemingway used to write drunk, edit sober. It's the same kind of idea—though I'm not necessarily talking about narcotics—the idea of writing in one state and editing in another, I would support.
---
Why I write really long longform articles
The reason that I write really long articles—the previous two articles that I published are both over 10,000 words, so you're talking more like a dissertation—I do that for selfish reasons, because I really enjoy writing. Getting started on these articles, I'm not thinking about the consumer, I'm not thinking about who's going to read these articles. I'm thinking about doing as thorough a job as I can. So, if I'm tackling a topic, I would much rather tackle it properly, than do the content marketing thing where I'm thinking, "Oh, people on average read for 10 minutes and then they get bored." I just don't really care too much. I really enjoy writing these pieces, so I'm really involved, I'm really passionate while I'm writing it. It ends up being as long as it is. I'm not going to purposefully cut it unless I feel like it really needs some chunks taken out of it.
The longforms have been doing well for me. People can't say I'm not thorough, or they can't come in and say you didn't cover these areas, because I probably have covered those areas.
---
Consistently create content
One of the lessons that I tried to learn from you from our first coffee together was that you also have to focus on being quite productive or quite prolific with your output. If you were just to publish an article and then rest on your laurels and think, "Oh, I wrote an article and I did really well", I think you're kind of missing the point. It's about consistently producing content that gets attention, and that is what is helping you.
---
The Full Writing Masterclass with Alan McIvor
Thank you for watching! Please support our efforts at Write With Impact Academy by becoming a subscriber today. Click the button below to try it out free for 14 days: